USA Freebie Finders Need Free Website Traffic? Try This Blogger Opp!
Update: The signup period for this Blogger opp is extended till July 31, 2015 and the giveaway will begin August 2nd.
Looking for website traffic from people who love to cook? The Blogger opp offers free and paid posts, and could help bring foodies to your site or blog with this fab John Boos Block prize.
Sign Ups Close 7/31 ~ Co-Hosts Limited ~ Sign Up Today!
How do you join the fun?
Here are the details.
Blogger Opp ~ The John Boos & Co Boos Block Giveaway (Free & Paid Options Available!)
Deliciously Savvy is Hosting another Giveaway and this one is super exciting! This giveaway is for a new style of cutting board from the John Boos Co. The American Black Walnut Tenmoku Cutting Board ($202 RV)!!! They are made in the USA and custom made when ordered! They are the most fabulous cutting boards.... high quality and foodies take notice!
Co-Hosted By ~ ???
1 Lucky Winner will receive this cutting board to add to their culinary tool collection! Now, I need your help promoting! This should bring a lot of new followers for all so jump in and promote! Thanks for all you do!
This board is

20" x 15" x 2"

, weighs 11 pounds, retails for $202, Made in the USA and they send you the board oil to keep it perfect always!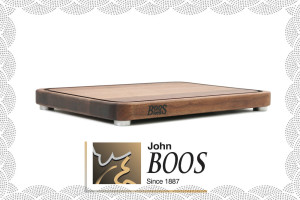 Check out John Boos Co. HERE
Follow Via Social Media Too!
Now…. Deliciously Savvy Needs Your Help Promoting! I cannot do it without each and every one of you so please sign up today! Thanks so much!
As Always, 2 FREE links with announcement post (Facebook Visit, Twitter, Pinterest or Instagram) OR Pay $3 for 2 links minus the announcement to mcushing7@hotmail.com via Paypal
Co-Hosts Wanted & Needed ~ $7 for 5 links of your choice (and I mean any you choose other than Google+). You can do Facebook Comments, Blog Comments, Giveaway Entries, Daily Votes, Social Media Follows of your choice, ANYTHING! PLUS the 2 FREE links above gives you 7 Links Total! Co-Hosts will also be promoted via graphics and link backs to their site via extra follow pages! All Co-Host Links will be listed individually for 5 point entry level on rafflecopter to gain more followers.(# of extra follow pages depends on # of sign ups so promote, promote, promote!) Co-Hosts are not required to post announcement but it is greatly appreciated!
***Other Sign Up Options Available On Sign Up Form***
Sign Ups Close 7/26
Open To Us Residents and must be 18+ to enter
Giveaway Dates ~ 7/29 9AM EST until 08/26 9AM EST
Savvy Offer!!! The Blogger With The Most Referrals will Receive a FREE Co-Host Spot!
Please tell them Suzanne at US Freebies N Deals Sent you!
If you signed up to co-host and you are the person with the most referrals, you will be refunded! Promote Away and Make Sure They Know To Say You Sent Them!
Minimum of 3 referrals to win free spot. No one has had 3 referrals so please.... promote and the free Co-Host spot is yours!
We hope our south of the border family and friends will find this coupon handy for stretching their budget.
Want to chat about another Fab Freebie? Drop us a comment, or connect with us in one of these ways. We would love to chat with you!:
Thanks for reading USA Freebies N Deals!
Be sure to
Freebie Alerts from USA Freebies N Deals
you never know what we'll find next!
Related Links
Any adfly links below will open with a word from a sponsor to help cover expenses. Click the "Skip Ad" Button when it appears in the top right corner to proceed to the webpage. Thanks to our sponsors for their support!
Find out more at :
http://adf.ly/?id=4009826
Want a direct link to your website? Leave a confidential comment and ask about sponsoring a post
.