USA Freebies N Deals Presents Free Eco Friendly Deliciously Savvy Blogger Opp!
The
Glass Dharma Giveaway is open now!
Deliciously Savvy is offering a free Blogger opp for a giveaway open to USA. Glass Dharma straws are sustainable reusable easy to clean glass straws. Have you seen these? What a great innovation! This is a giveaway we are proud to join. Would you like to join too?
Just follow the directions in the post below.:
Blogger Opp ~ $25 Glass Dharma Gift Card Giveaway

Glass Dharma Glass Straws are sustainable, reusable, durable, easy to clean, suitable for hot and cold drinks and dishwasher safe!
Glass Dharma is creating a lot of excitement from those who are concerned about their health and our environment. Using glass provides one solution to plastics leaching into our foods and ultimately ending up in our landfills and oceans. Glass Dharma customers also appreciate that the straws are hand made in the USA! They also offer 100% satisfaction guarantee as well as a Lifetime Guarantee Against Breakage, which makes their straws risk free for me and you!
So earlier this year, Deliciously Savvy was asked to review several fabulous glass straws from Glass Dharma and to provide a review giving honest, unbiased feedback. Well, I LOVE them! I use them all of the time and actually carry a clean one in my purse for whenever I am out and on the run. You never know when and where you can make that small difference and..... instead of using the traditional plastic straws you receive when eating out, I pull out my fabulous glass straw from Glass Dharma and it makes me feel pretty good :) BUT this got me to thinking that I really would love to have a nice carry case to pull out with that straw when I am carrying it in my purse. I looked into it at Glass Dharma's website and sure enough they have fabulous "eco-friendly" carry cases too! So......Glass Dharma was AWESOME enough to provide me with a new straw and one of the Hemp Carry cases for it so that I can share my thoughts. My thoughts are.... I should have ordered this a LONG time ago and will purchase one for each straw that I own! Awesome product and a great way to make a difference.... no matter how big or small.... it all adds up! Here is what I received for this review: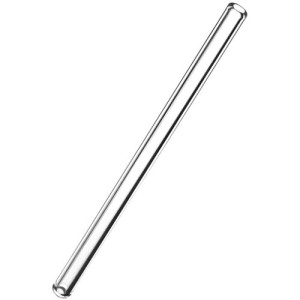 9 " Glass Straw
I hope my south of the border friends will find this free blogger opp handy for stretching their budget.
Want to chat about another Alert? Drop us a comment, or connect with us in one of these ways. We would love to chat with you!:
Thanks for reading USA Freebies N Deals!
Be sure to
Freebie Alerts from USA Freebies N Deals
you never know what we'll find next!
Related Links
Any adfly links below will open with a word from a sponsor to help cover expenses. Click the "Skip Ad" Button when it appears in the top right corner to proceed to the webpage. Thanks to our sponsors for their support!
Find out more at :
http://adf.ly/?id=4009826
Want a direct link to your website? Leave a confidential comment and ask about sponsoring a post
.